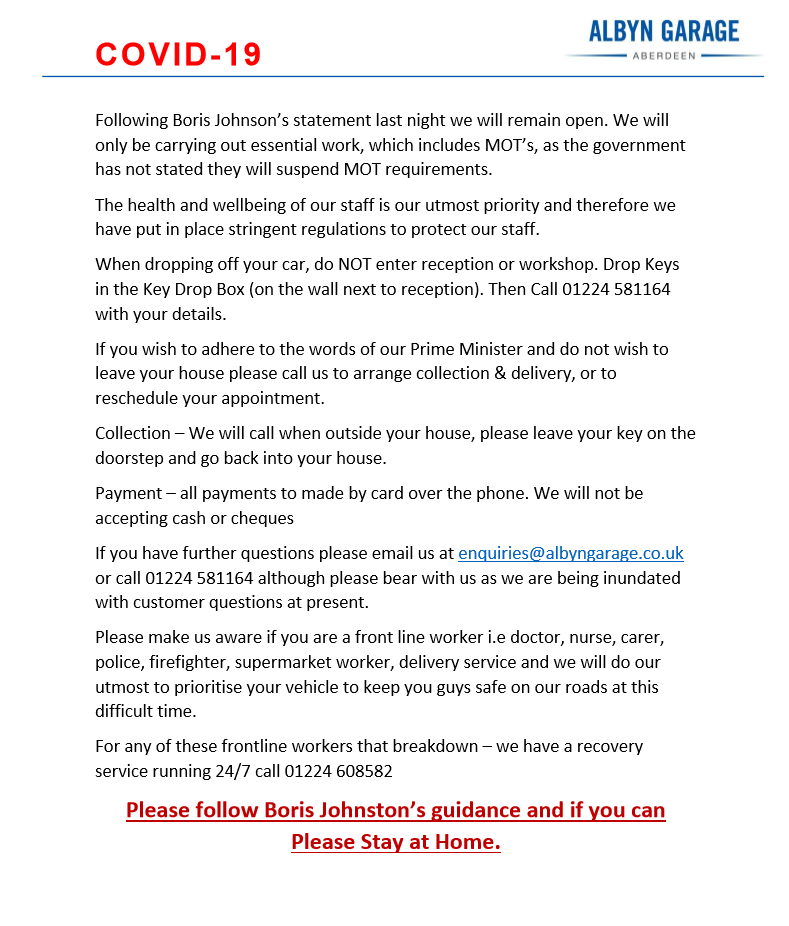 Following Boris Johnson's statement last night we will remain open. We will only be carrying out essential work, which includes MOT's, as the government has not stated they will suspend MOT requirements.
The health and wellbeing of our staff is our utmost priority and therefore we have put in place stringent regulations to protect our staff.
When dropping off your car, do NOT enter reception or workshop. Drop Keys in the Key Drop Box (on the wall next to reception). Then Call 01224 581164 with your details.
If you wish to adhere to the words of our Prime Minister and do not wish to leave your house please call us to arrange collection & delivery, or to reschedule your appointment.
Collection – We will call when outside your house, please leave your key on the doorstep and go back into your house.
Payment – all payments to made by card over the phone. We will not be accepting cash or cheques
If you have further questions please email us at enquiries@albyngarage.co.uk or call 01224 581164 although please bear with us as we are being inundated with customer questions at present.
Please make us aware if you are a front line worker i.e doctor, nurse, carer, police, firefighter, supermarket worker, delivery service and we will do our utmost to prioritise your vehicle to keep you guys safe on our roads at this difficult time.
For any of these frontline workers that breakdown – we have a recovery service running 24/7 call 01224 608582
Please follow Boris Johnston's guidance and if you can Please Stay at Home.